T.C. Insulating Glass Inc. is a family owned and operated company which began in 1988 in a 12,000 square feet builiding. Since 1994, the company has grown and expanded by relocating to a new facility which is approximately 20,000 square feet. The building is located in the City of Woodbridge, just one block west of Weston Road, south of Hwy #7, near Hwy 400 and the 407. With more than thirty years of experience, Claude Levesque, the owner and founder, embraces a hands on approach and still works in the plant alongside his employees. As a member of the Insulating Glass Manufacturers Association of Canada (IGMAC), our customers are guaranteed quality in that all products are certified.
Under the leadership and guidance of their father, Albert, Josie and Lisa have gained knowledge and experience in all facets of the glass industry. Albert Levesque has successfully completed the IGMAC technical seminar and is always available to respond to any customer inquires.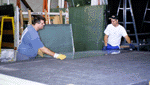 Being that T.C. Insulating Glass Inc. is a family oriented company, the atmosphere within the company is relaxed and at ease. This helps establish trust amongst our customers.